The Best 5 Apps to Help Planning your Wedding and Keep You Organised
Planning a wedding is a challenging and time-consuming task, and with so many details to keep track of, it's easy to feel overwhelmed. Luckily, there are many wedding planning apps available that can help you stay organised and on track.
In this article, we will discuss the best 5 wedding planning apps and tools to keep you on track and organised during your wedding planning process.
By any means I am affiliate to any of the apps mention here.
1 – WeddingHappy
WeddingHappy is an app designed to help you create a customized wedding plan and timeline.
The app allows you to track your progress and receive reminders for upcoming tasks.
It also includes a budget calculator and vendor manager, making it easier to stay on top of your wedding planning tasks. With WeddingHappy, you can easily monitor your budget, create a to-do list, and communicate with your vendors all in one place.
The app is free to use and available for IOS and Android.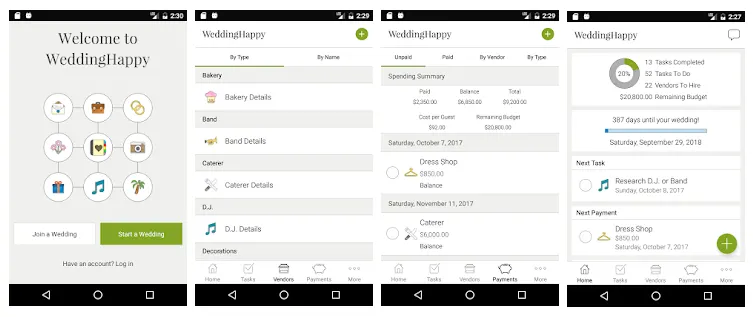 2 – Trello
Trello is a project management tool that can help you stay organised during all the fases of your wedding planning process.
It allows you to create boards for different tasks, such as "venue search", "florist,", of course, photographer 😉 and use cards to track specific details or to-do items. The cards can be presented on a Kanban style wich make it very easy to view, organise and, specially not forgetting anything.
With Trello, you can easily collaborate with your partner or wedding planner to make sure everything is running smoothly.
It is available on both desktop and mobile platforms, making it accessible wherever you are.
I love Trello!
I use it a lot to keep track of everything related to our work, since keeping track os couple's contacts to all my workflow check lists to keep everything under control.
The software is free to use and, for the task, the free version and many of the extras/extensions are more than enough.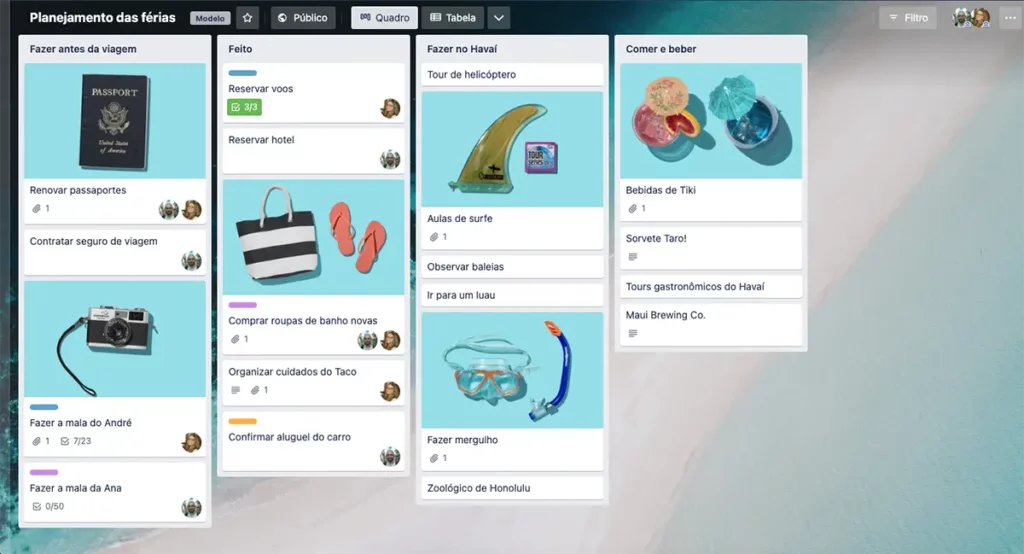 3 – Google Sheets
Google Sheets is a free and useful tool for tracking your budget and keeping all of your wedding planning information in one place. If you have basic knowledge of Microsoft Excel than working with Google Sheets is easy for you.
With Google Sheets, you can create a spreadsheet to track expenses, vendors, and other details. You can share the sheet with your partner, wedding planner, or other stakeholders to ensure everyone is on the same page.
Google Sheets is also easily accessible from any device with internet access, making it a convenient and flexible tool for planning your wedding, all you need is to have a gmail and you already have access to Google sheets.
4 – Pinterest
Pinterest is a very popular platform for wedding inspiration.
You can create boards to save ideas for your dress, decor, and more. With millions of pins available, you can easily find inspiration and ideas for your wedding.
Pinterest also offers the ability to follow wedding planners, photographers, and other wedding vendors, making it a great resource for connecting with professionals who can help make your wedding dreams a reality.
5 – A Google Drive or Dropbox
Google Drive or Dropbox are a cloud-based storage service that can be useful for storing all of your wedding planning files in one place.
You can save contracts, vendor information, and other important documents, and access them from anywhere.
This is particularly useful if you're working with a wedding planner, as it allows you to share documents and collaborate on the planning process easily.
You have a free Google drive with 15Gb storage capacity with your Gmail account.
For Dropbox every new account get 2Gb of free storage capacity.
Check out this article for a comparation of the tow: https://zapier.com/blog/dropbox-vs-google-drive/
FAQs
Can I use multiple wedding planning apps at once?
Yes, you can use multiple wedding planning apps to stay organized and on top of your wedding planning tasks. For example, you can use WeddingHappy to manage your budget and create a timeline, while using Trello to track specific details and to-do items.

Are these wedding planning apps free?
Most of the apps mentioned in this article have free versions available. However, some apps may offer additional features or functionality for a fee.

Can I use Google Sheets on my phone?
Yes, you can use Google Sheets on your phone by downloading the Google Sheets app from the App Store or Google Play Store.

How can I get the most out of Pinterest for my wedding planning?
To get the most out of Pinterest for your wedding planning, consider following wedding planners, photographers, and other wedding vendors for inspiration and ideas. You can also use the search bar to find any images or articles you are looking for.
Get In Touch!
WE WOULD LOVE TO EAR FROM YOU